I have no excuse for not updating sooner. I really don't. I'm ungodly lazy. So sorry. But I have both Generations and Pets so you can look forward to the house being overhauled for a third time next chapter. I started this update on Friday, October 21st, 2011. At 8 PM. I bet you I don't put it up that day. Maybe the next. But I get bored easy. I may not even finish it that day. 78 photos total this update. I started with 100 exactly, but once I deleted what I wasn't using it narrowed down to 78.
Last time in The Ootori Legacy...
Miho got pregnant and gave birth to twins, Momo and Akemi
Momo and Akemi became toddlers
Jared adopted a little boy. I found the paper with his name and traits. His name is Howell. He's a coward, good, and a party animal. He is also an aquarius.
Mizumi became an elder.
Momo and Akemi became children.
Miho became pregnant again.
And that's pretty much all that happened of any note. Sorry, I'm not so interesting... Now for the first overhaul. It's not the whole house, just a few of the rooms.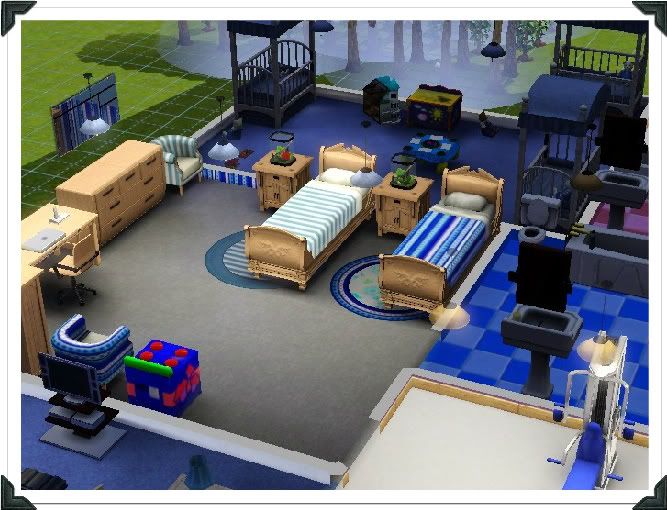 First up is the girls room. I tried to match both their personalities without going overboard on either case. So it's a bit zany and a bit girly.
Mizu and Connor's room. I think I just moved the bug added some plant life and got them a more expensive bed. I think that's it, but still.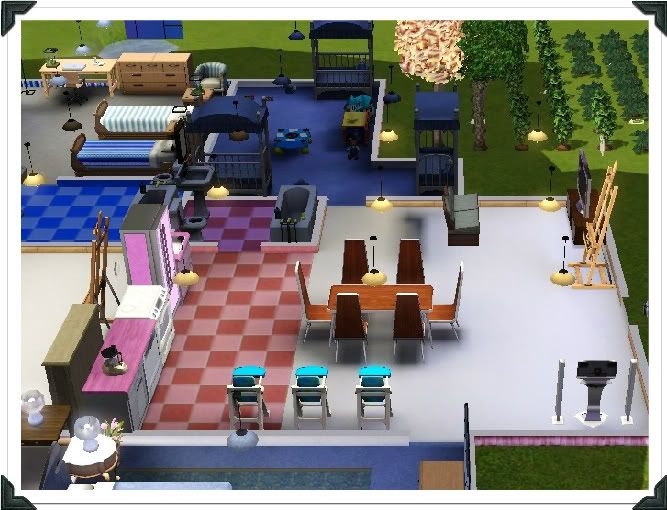 I made the kitchen/living room longer. Put a couch in front of the TV. Got a better dining set, a longer table with more chairs, nicer too. And the three toddler chairs for multiples. And that was all really. Overhaul finished. For now, a rebuilt the house at the end, so it will all change anyway. And that's the second overhaul in this chapter.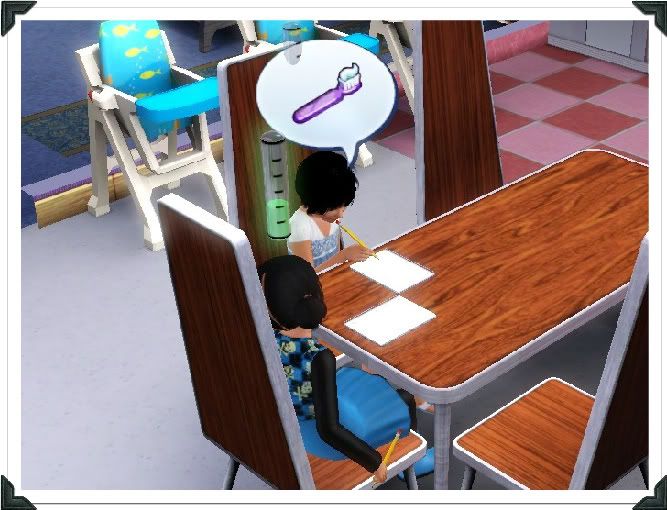 The twins are very close. They spend almost all their time together.
Akemi: I can't believe they gave us homework about that presentation on how to brush your teeth we had today!
Momo: I dunno, I thought it was kinda cool.
Akemi: Your crazy, you think everything's cool...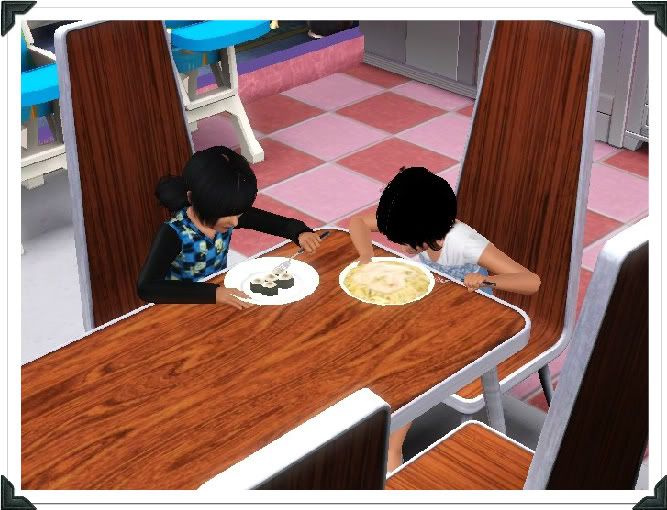 Mizu knows all the recipes so they can both eat their favorite food for dinner. And they always eat together after school.
They eat breakfast with which ever adult is around and is hungry.
Connor: Now you two girls are gonna grow up and get good jobs and make lots of money so you can support your grandmother and me.
Akemi and Momo: Yes, Grandpa.
They hand out together all the time, and hug constantly.
Momo: What is that? Ode de Garbage?
Akemi: No! It's Misty Gardenia! It's perfume! You should try it, you might make a friend other than me that way.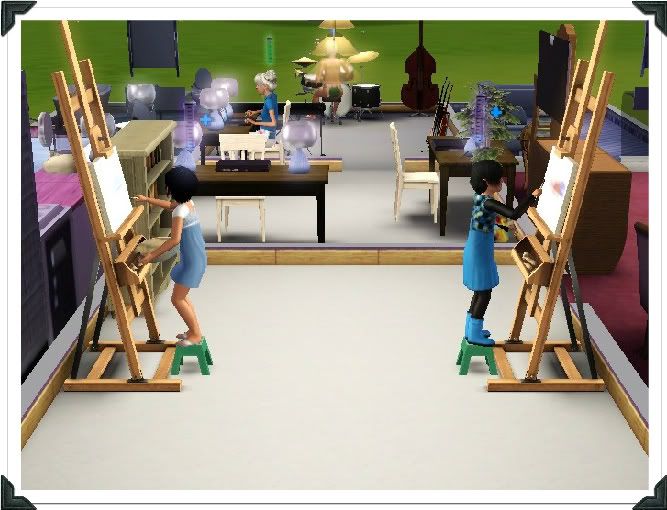 And when they have the time and energy they even skill build together. If you look behind them you can see Mizu is still writing those romance novels. And if you look even close you can see Miho's leaf covered pregnant behind playing the drums.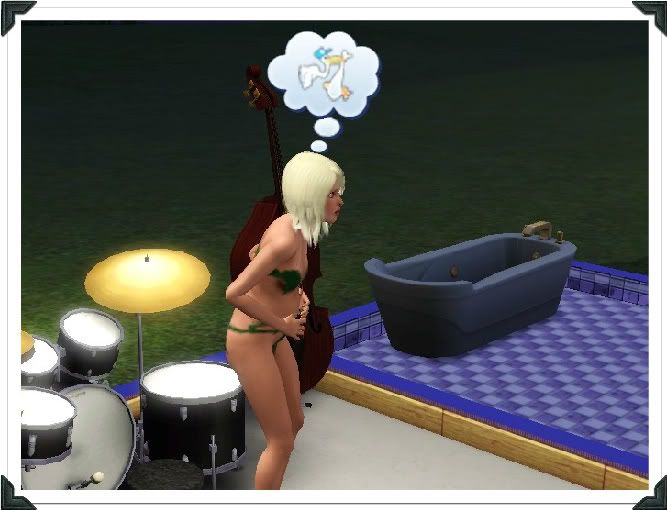 She's still at the drums when she goes into labor.
Mizu goes with her to the hospital because Tracy works nights at the warehouse.
Tracy's brother Steve is there with baby Tabitha. And low and behold! It's a boy! Mikado Ootori.
The second Tracy gets home he goes and spends time with his little boy. He's excited to have one more boy in the household. Now their not so outnumbered.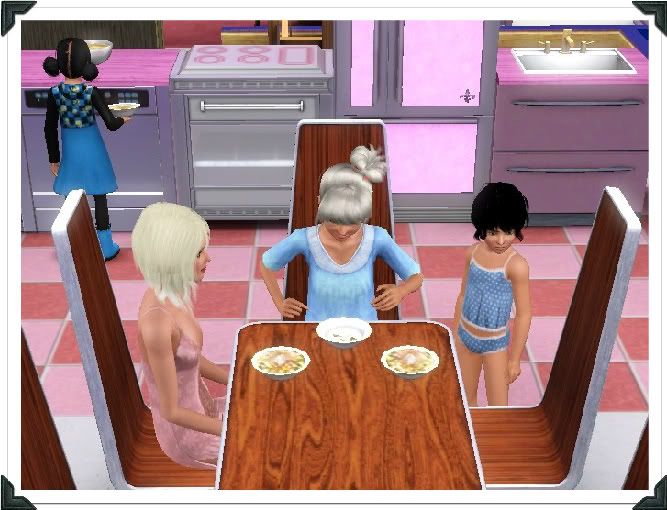 Three generations of Ootori women all at one table. This feels like it's going to take forever...
Mizumi: My cooking is always so delicious.
Miho: Your a chef mom. The very best.
Akemi: I love your cooking grandma.
Momo: Oh! Fruit Parfait! Haven't had this before!
Tracy just loves his little boy.
Tracy: My precious little boy. I'll love you forever.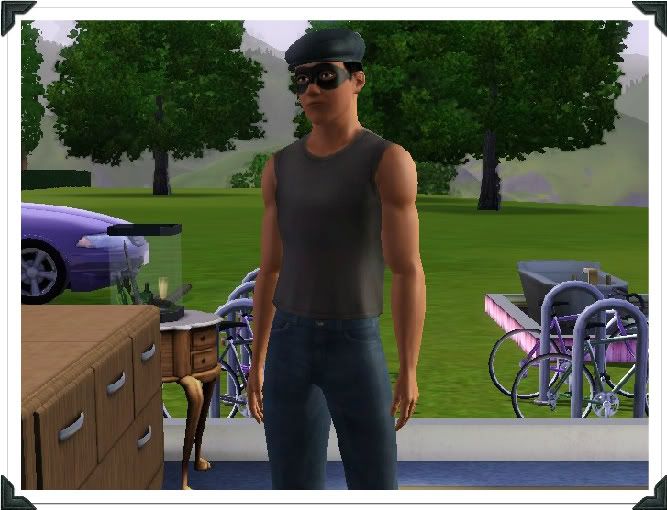 This is Tracy's new work outfit. It made me giggle, it looks so stupid.
And because I narrowed baby days down to 2 days... It's Mikado's birthday already!
Look at those happy faces! Well, Momo looks a little pissed. But Tracy looks super happy. And Mizu looks like a demented gap toothed granny...
There we go. Whole family is there for the party. At least, the one's who live there anyway.
Because all babies wrapped in swaddling can sit up and spin around on their own. They also fart sparkles and turn into toddlers in an instant.
Well besides the hair and those glitchy boots, at least he didn't turn into some sort of strange clothing monster.
He's such a little cutie!
He's so adorable! Eating Grandma Mizu's pureed breakfast food.
Mikado: Om nom nom! Good!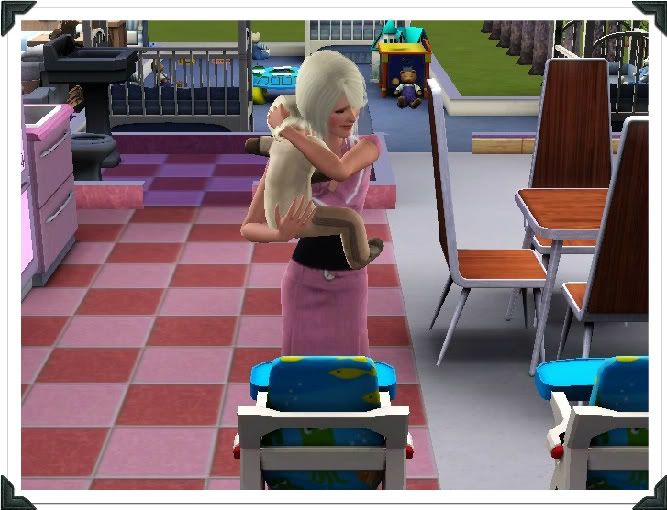 Miho: Your so well behaved! I love you Mikado!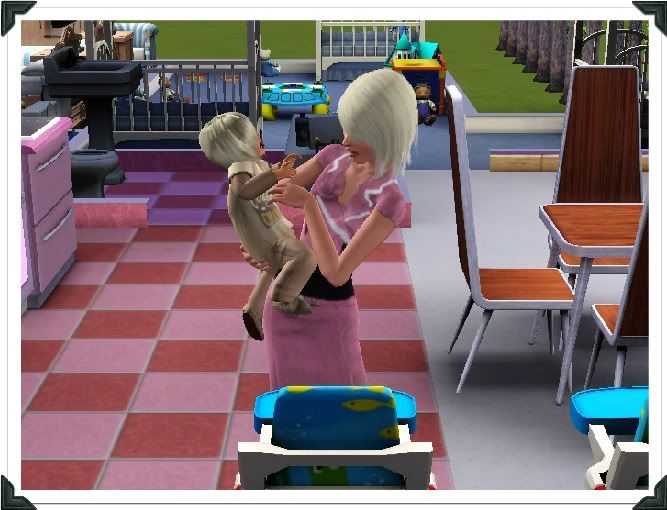 Miho is a good mother really. It's a good thing the higher she gets in her career the more days she has off. She can spend more time with the kidlets.
I edited Mori's old room for Mikado. I may have added some things too. It's been so long I don't remember. Especially since the layout of the house has been changed where I am in the game.
Miho has started teaching Mikado to talk.
Miho: Can you say pan?
Mikado: No!
Miho: How about Mama needs a raise?
Mikado: Mama, Raise!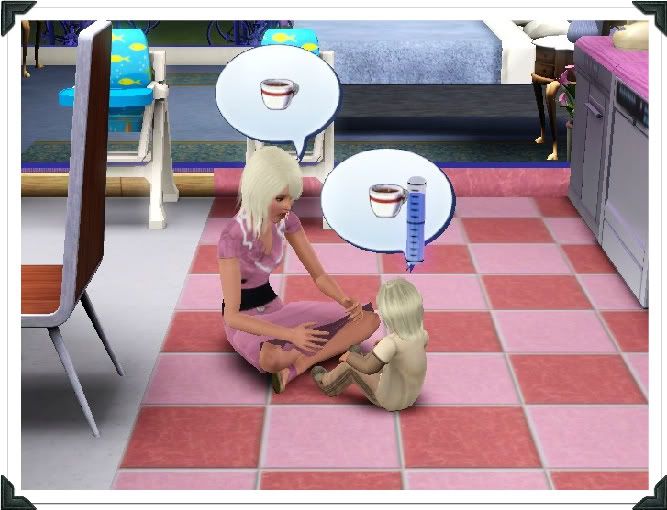 Miho: And Coffee? Can you say Coffee?
Mikado: Cauphee!
And then Mikado sleeps like a baby. So cute.
It is then, in the middle of the night, that Connor wakes up to follow his wife into elderhood.
Connor: Yay! I'm going to be a fine looking older gentleman!
He's got that right. He's a real cutie. And I gave him his beard back like I said I would.
Connor: Wait! I don't want to get old yet! I'm rethinking this getting old thing!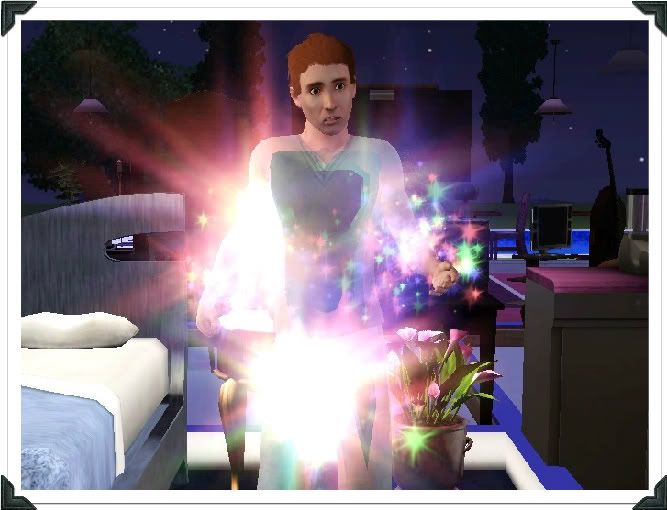 Connor: I really don't want to do this now! Can I do it tomorrow?
...No.
Connor: Well, this isn't so bad I guess. Better than I thought it would be in any case...
See? And as soon as I load up the game again I'll buy you a cane.
Now I'm not sure if those are his exact traits after his mid-life crisis Lifetime Reward. But those are the one's I have written down...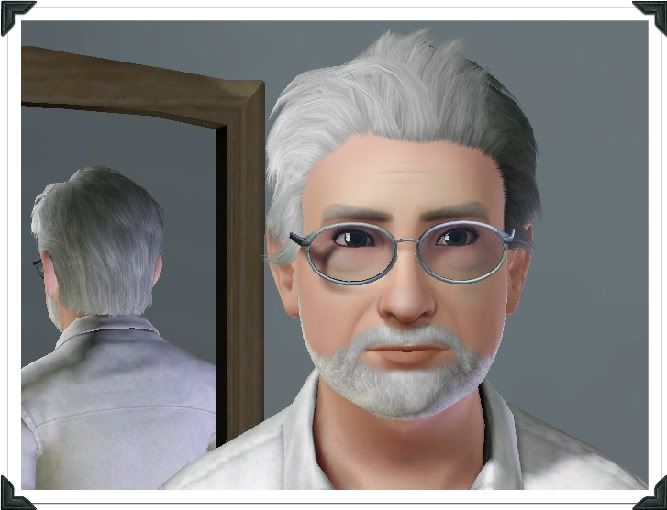 See he's a good looking elder. With his glasses and his beard.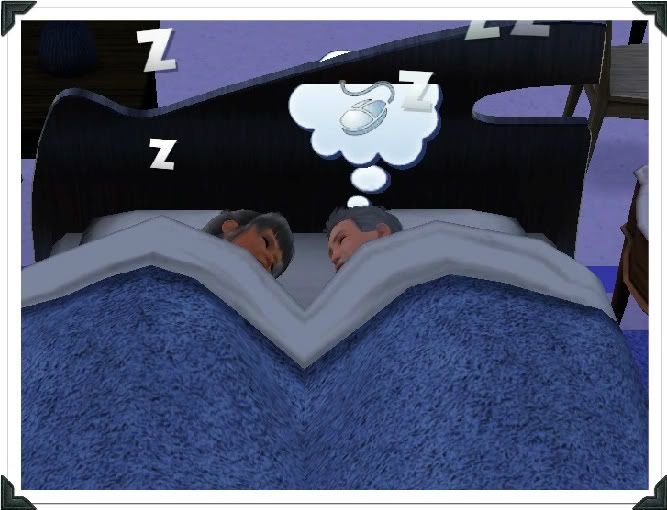 And then Connor goes back to sleep with his wife and dreams about the computer. Or his next book. I'm not a dream interpreter.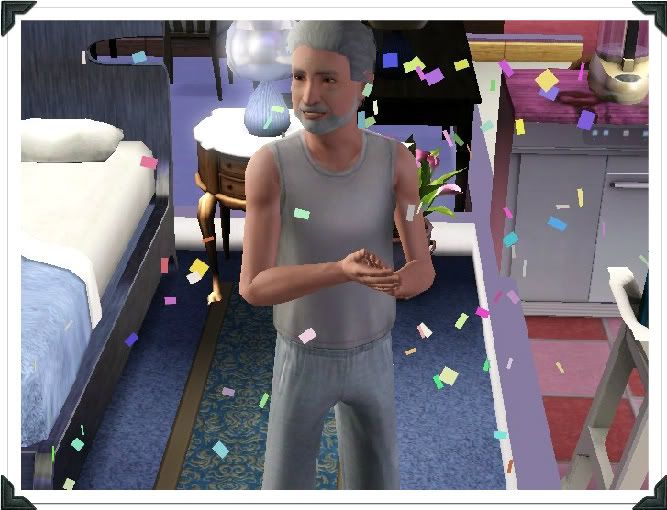 The first thing Connor does when he wakes up is retire from his job. He was already at the top of the Journalism career so I saw no point for him to need to keep going.
The twins on the bus! They sit together. And they both look so bored. Though Momo looks marginally more interested than Akemi.
Tracy and Miho really do try to be good parents. They spend any extra time they have when their not skilling with either Mikado or the twins. Though usually Mikado because the twins always go off on their own to play together...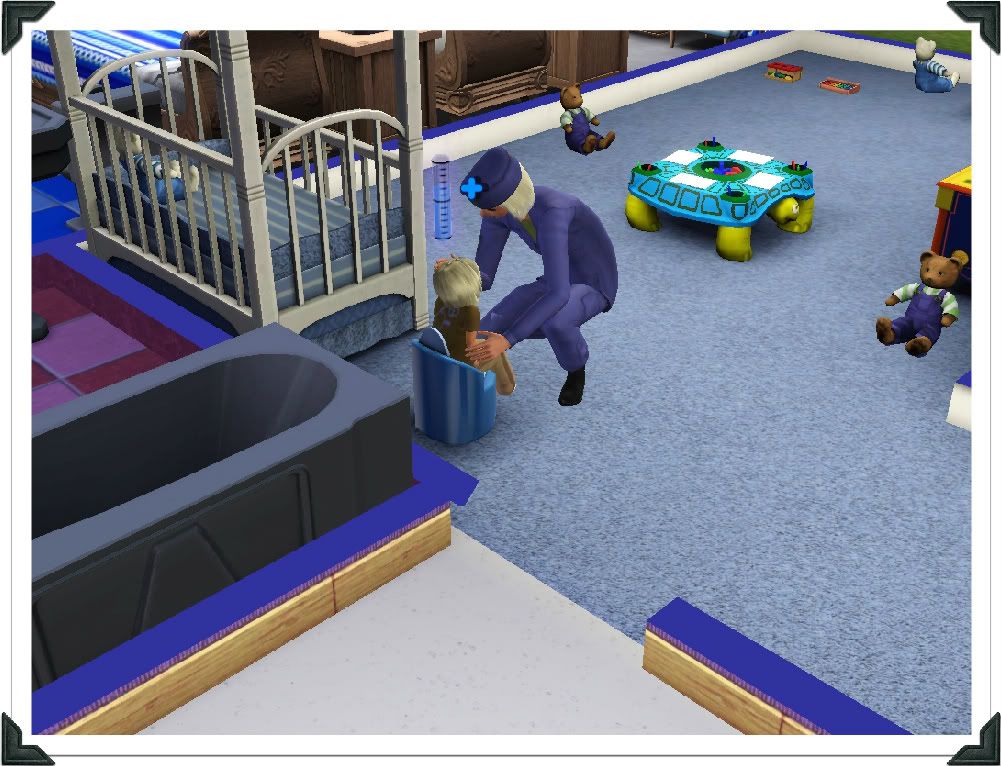 Miho potty trains Mikado.
And now time for spare children updates. All of Mori, Emiko and Tomoyo's children.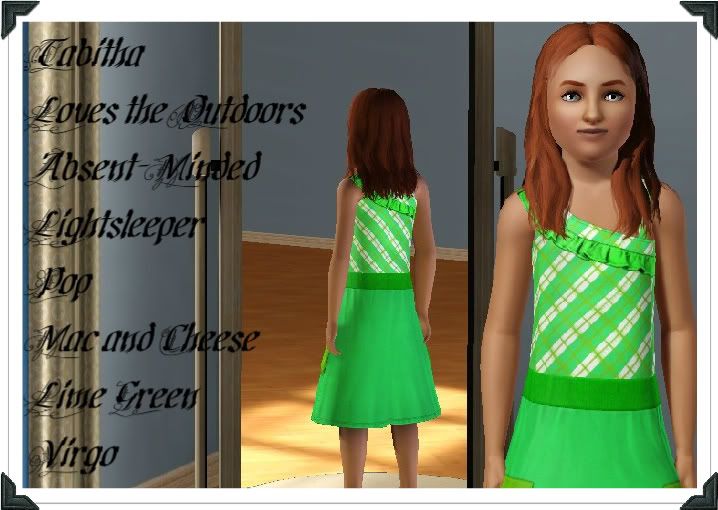 Tabitha. I hope she grows into a beautiful teen.
Maya, pretty as usual.
Amara is still my pretty little princess. I just love her to bits. If Tomoyo won heir, I'd be hoping Amara would be her succesor.
Gustavo isn't looking so bad either. He's a little cutie.
My little Artsy-Fartsy Malcolm II. Something about his face makes me think he's gonna look a bit like Connor.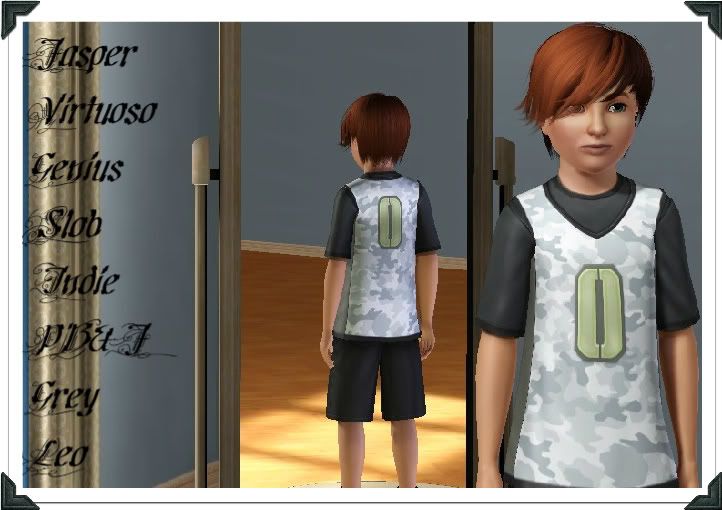 Now Jasper really looks like Granpa Connor. His hair and eyes, and also his facial structure.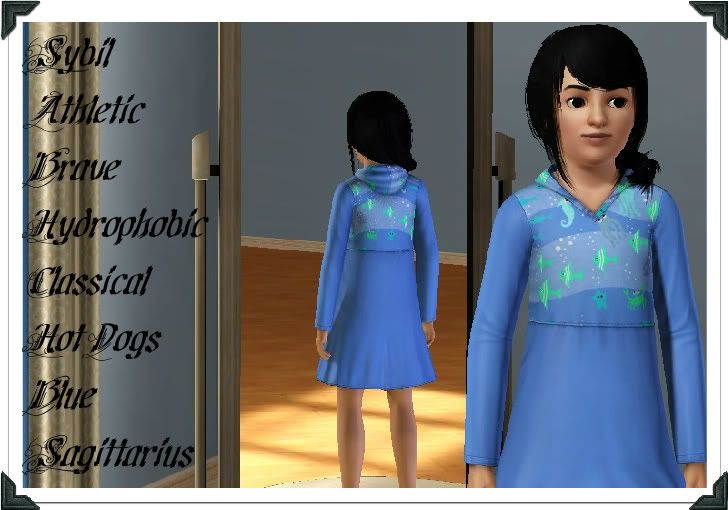 Sybil, black hair and eyes. Neither Parker or Emiko's disernable nose. So she either has Granma Mizu's or Parker's mothers(since he gets his nose from his dad). But her black hair and eyes is from Parker or his mother I believe.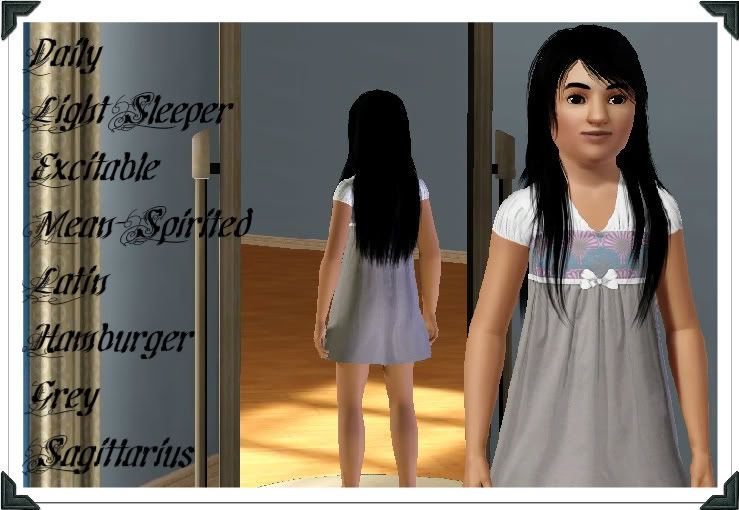 And Daily also has black hair and eyes. Though her nose is definitely Parkers'. Which means a large nose for her. Here's to hoping I can make it fit her face better through hair like I did Emiko. And that's all the spare childrens chilluns.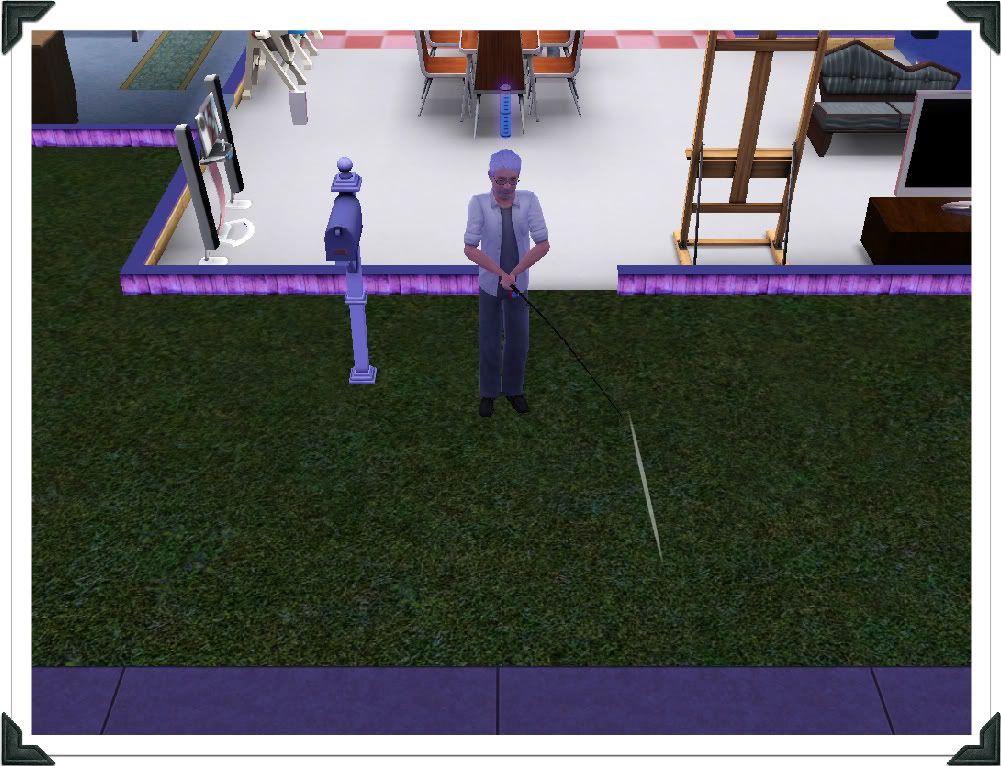 Connor likes to fish in the pond across the road... from our front yard. I don't know if it's old age or if the game just glitched a tad.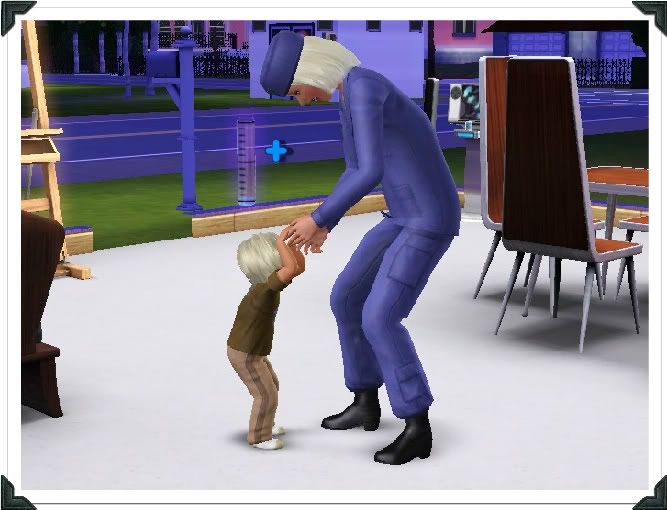 Miho starts teaching Mikado to walk. He's so cute!
I just wanted to point out that while playing my Apocalypse Legacy(which you guys will see at some point when I put the chapters up) I learned to play with walls up. So there will be less of this walls down stuff in the next chapter. Though sometimes I put the walls down and forget them so you might still get some of the walls down stuff.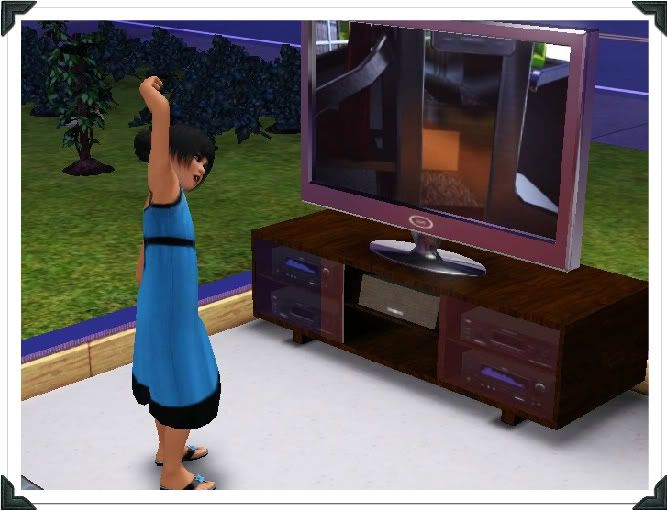 Momo, hard at work putting that athletic trait to use.
Momo: And one, and two, and three, and four!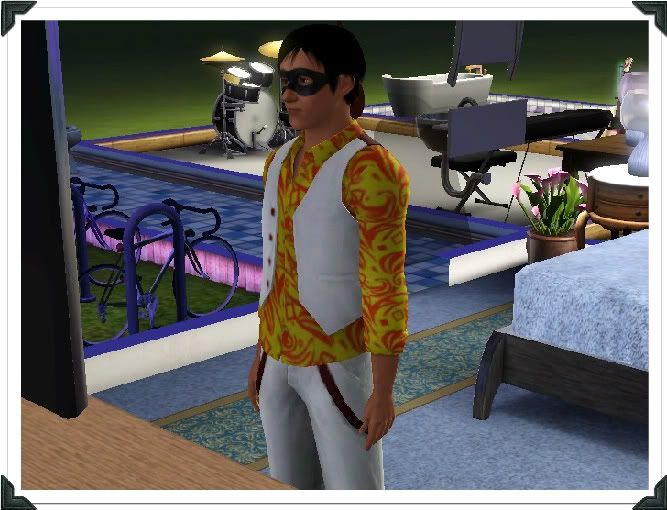 Another stupid looking work outfit for Tracy. Dear god what is wrong with the criminal career? Do they delight in making fun of their lowly workers poorly dressed looks? Are they really that evil?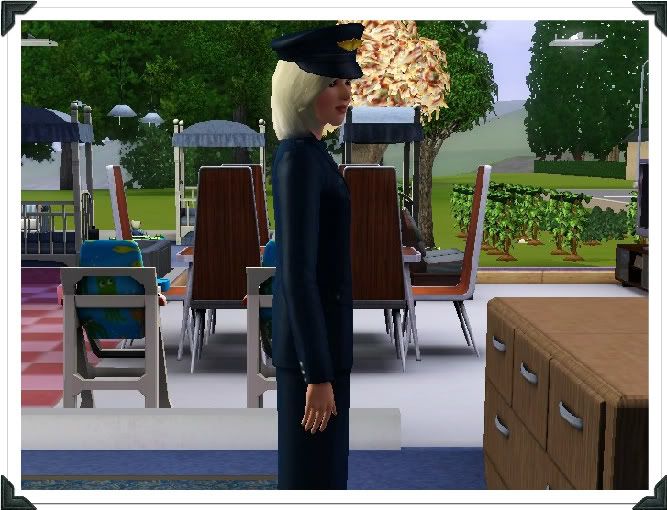 Miho also got a promotion. She now wears my favorite Military outfit ever. It's why she's wearing it in her heiress painting.
And now for Mikado becoming a child birthday spam!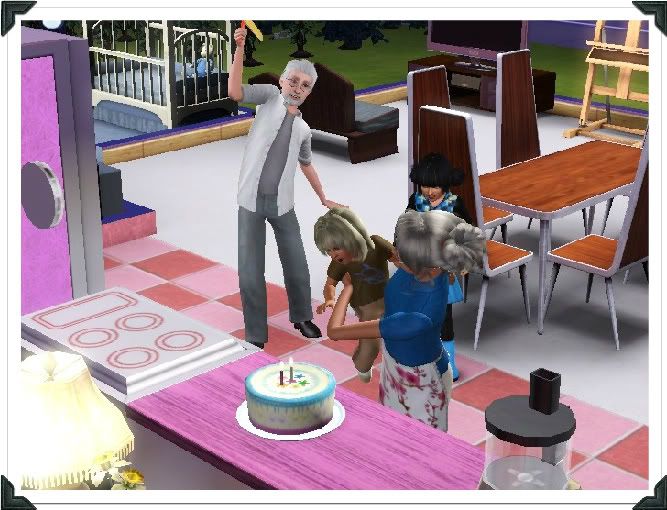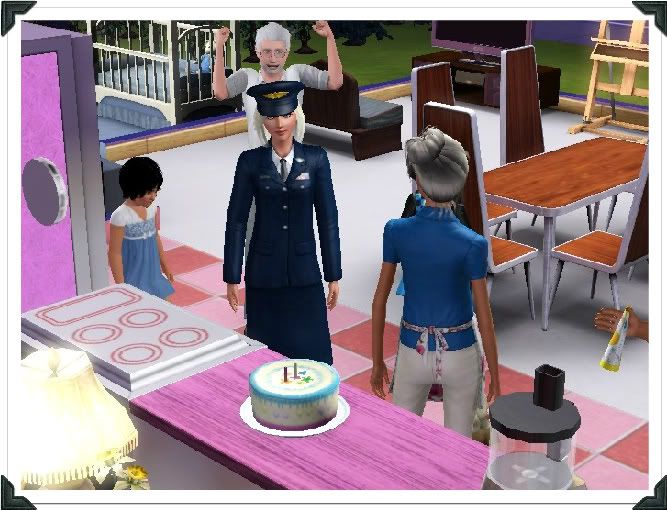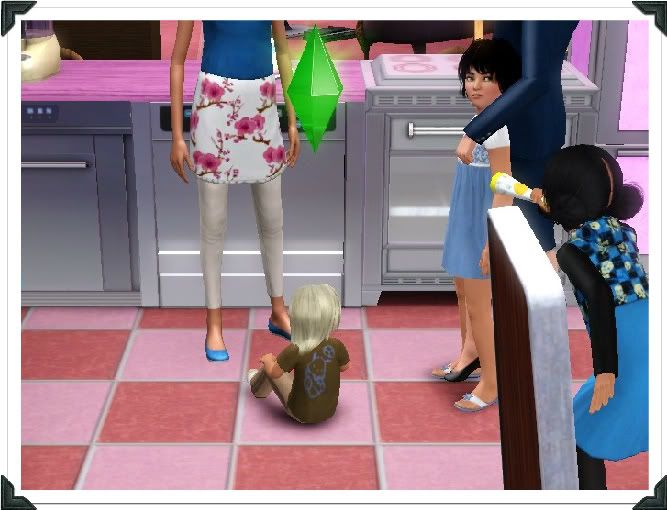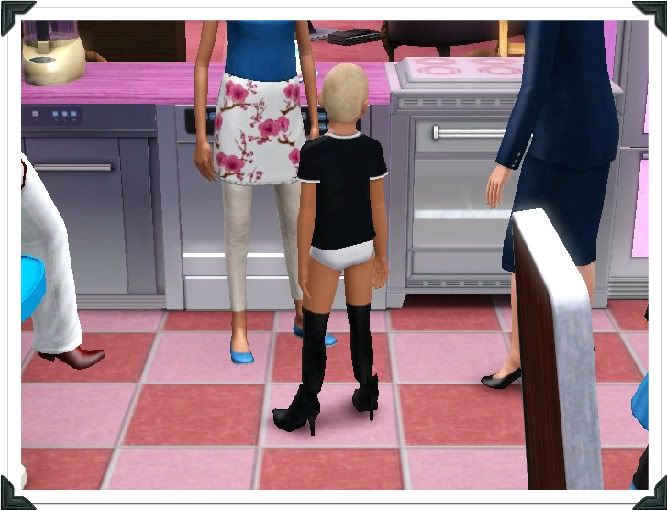 Meh. Could have been worse. He could still be a clothing monster with the glitchy clothing I don't know how to get rid of.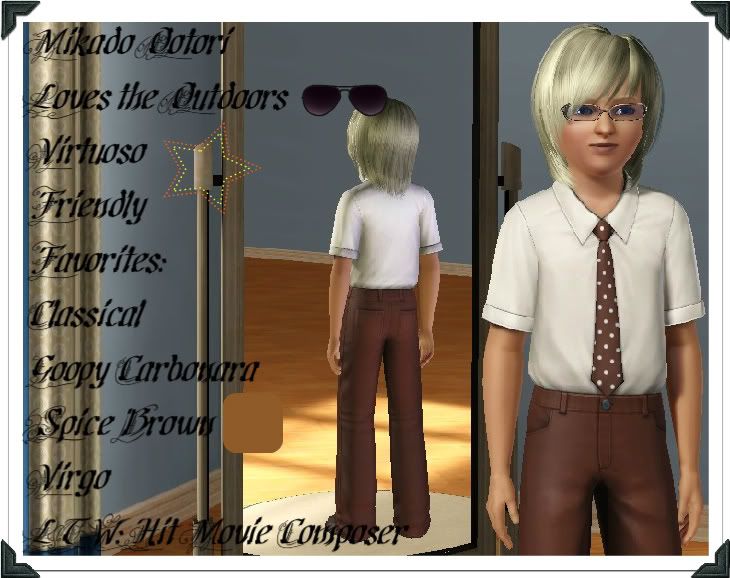 His traits are a bit boring, but his cuteness makes up for it. Yeah?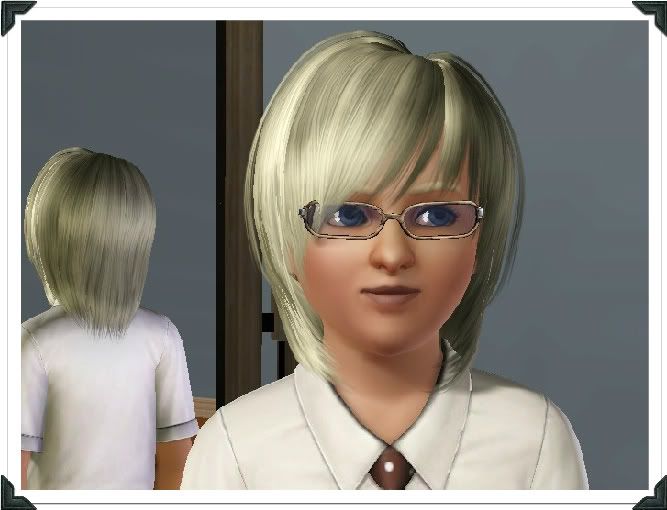 A close up of his face to show you how cute he is.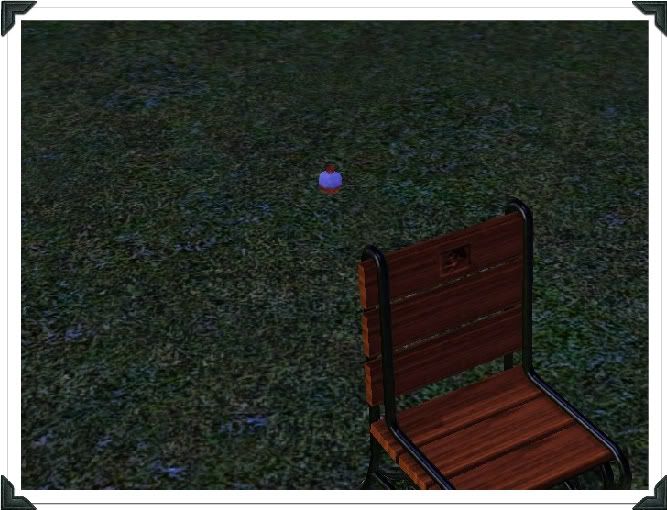 Connor's at it again. He's actually standing across the street fishing, but he has a traveling bobber. It floated all the way to here, it disappeared a few moments later. But I doubt his cast is that powerful...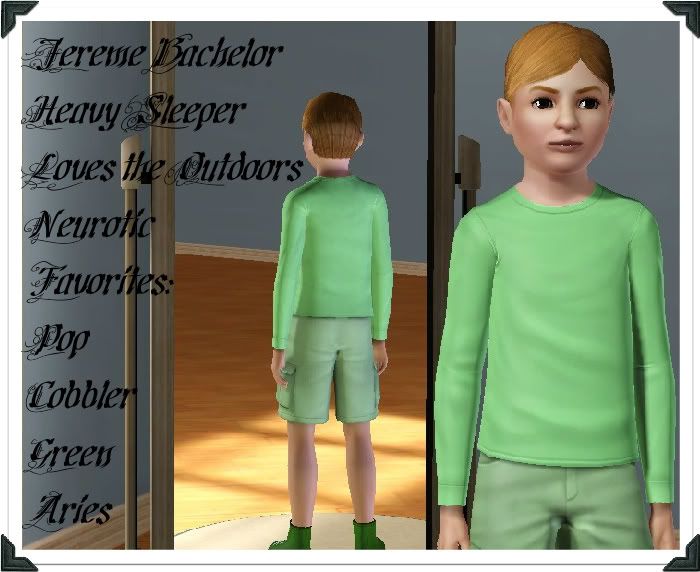 This is Kyla's child with Michael Bachelor.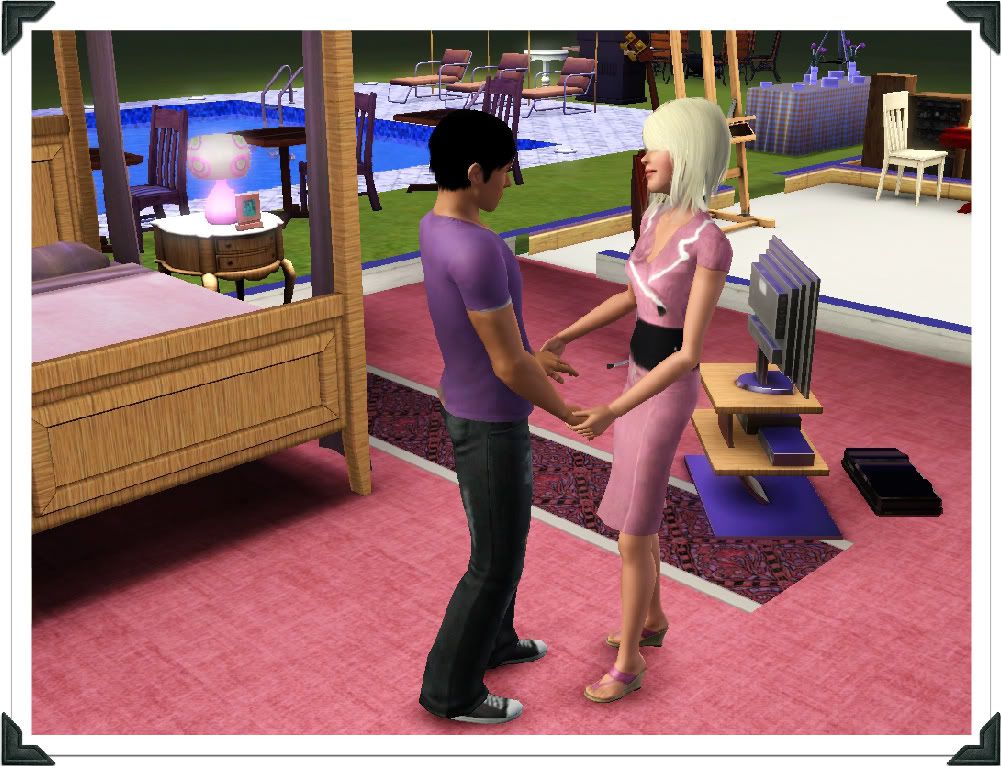 These two are still really big on the romance. You'd think they were still newly weds even three kids later... Well, two pregnancy's and three kids later...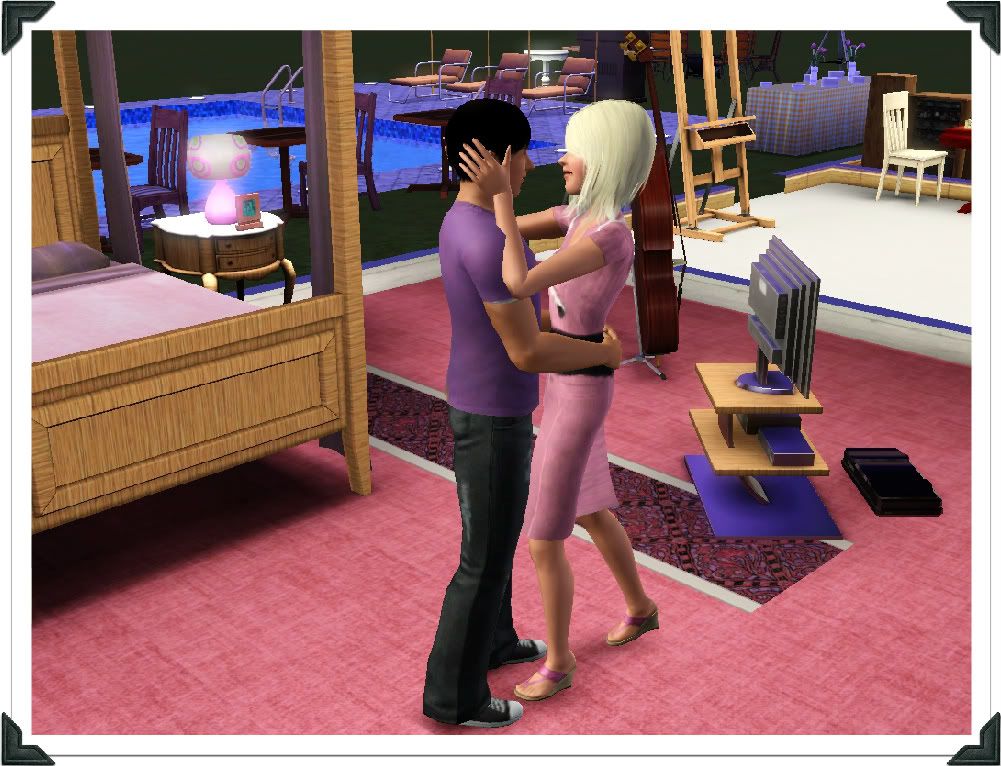 I mean really. Their so cute together. Whenever their not skilling or playing with one of the kids their all over each other.
Tracy: What's say you and I even out our odds and try for another child? Another little one to pass along our gene's to.
Miho: *giggle* I like the sound of that.
I see what you did there Tracy.
And so they hop right too it.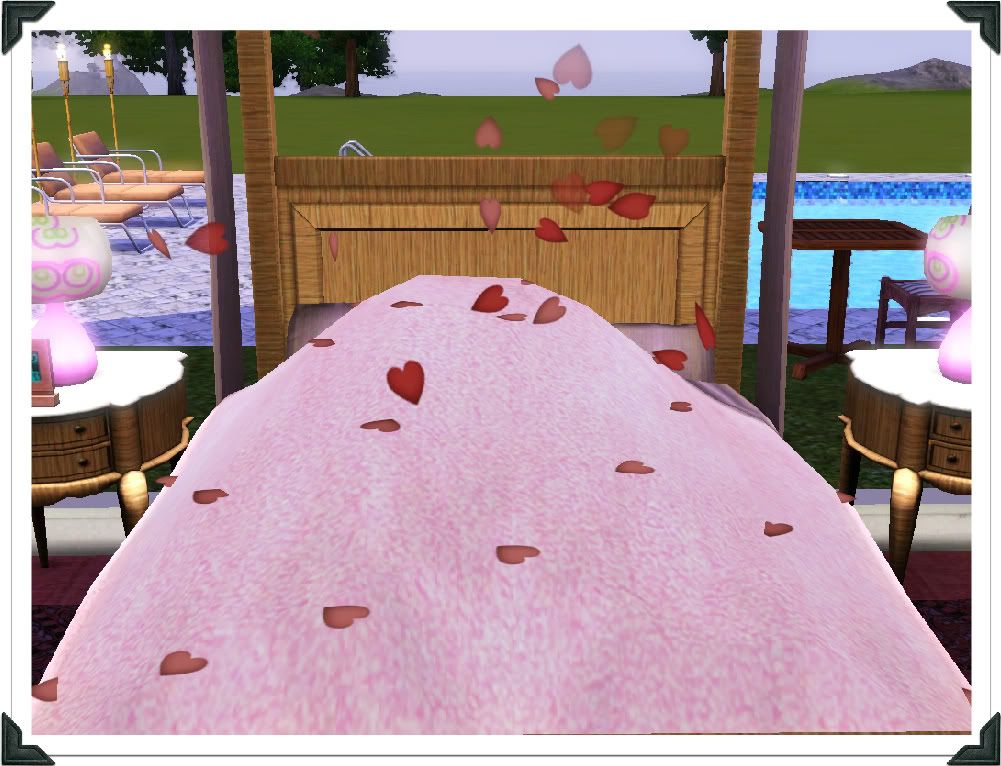 Baby chimes! I'm hoping for another boy but I've picked out a girls name too. Just in case.
And now for the new house tour!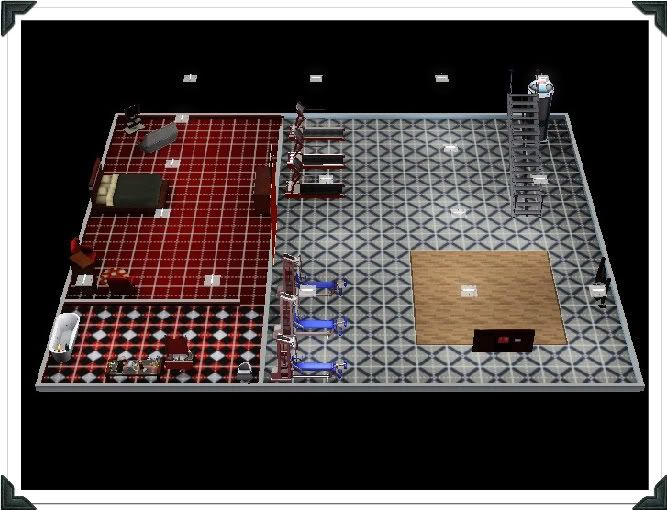 First is the basement. That's a guest bedroom of sorts. Be it a sim whose sleeping over or for any ghosts we may have in the future. Just an extra bed for all occasions. It comes with it's own bathroom. And we also have our own home gym down there!
From the bottom left going clockwise. This is the ground floor.
The Garage. The grandparents bedroom with bath. The kitchen/dining room. The music room. Mikado's bedroom plus bath. The next child's bedroom plus bath. No colors because it's not been born yet so I don't know it's favorite color. Momo and Akemi's room plus bath. The art room.(which will be upgraded now that I have ambitions. That is what it's called right?) And the living room/party room/entrance hall. Plus the hallway.
The second floor. Starting with the heir bedrooms bathroom and once again going clockwise.
The heir bathroom. Off the bedroom is also the nursery. Then the bedroom it's self. Comes with it's own private patio. Then is the butler's bedroom and bath. And finally the library/study.
Two photo's for the backyard. This is pretty much the party half.
And last but not least. The final photo this chapter. Thank god! Start Friday the 21st. Finished Tuesday the 25th. See I'm very lazy. It could have been done sooner but I kept putting it off... I'm gonna get started on 2.2 right away though. So hopefully I get enough pictures to start the next update. Though because of my laziness it could be a year before I actually put it up.
Current Mood:
chipper
Current Music: The Children Sing by Story of the Year